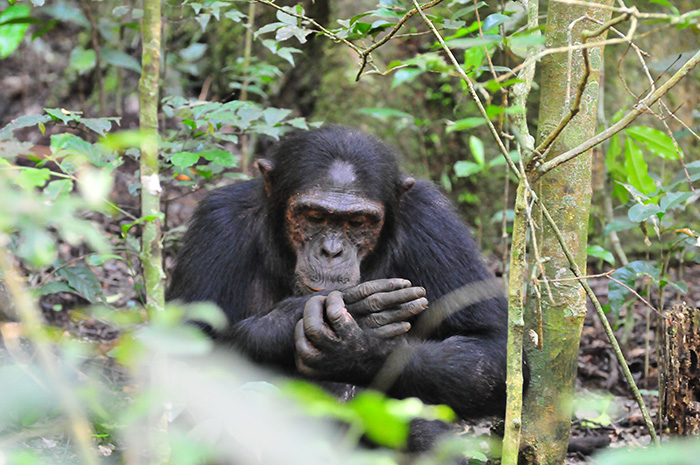 Kibale's Chimp Habituation Adventure Experience
What are our thoughts on the chimp's habituation experience?
Those who desire more than a fleeting contact with Uganda's chimps might join the habituation team and travel deeper into the Kibale Forest in search of groups of chimps less acclimated to human presence. This Chimpanzee Habituation Experience gives you the best chance to spend a half-day or a full day in Kibale Forest with the chimps. Habituation is the gradual exposure of chimps to humans to become accustomed to their presence.
These chimp groups are eventually tracked as part of a routine chimp trek adventure. The habituation procedure also allows the rangers to gain a better understanding of the chimp's behavior. Furthermore, this procedure takes three years to complete. Joining the habituation team is a once-in-a-lifetime opportunity to learn a lot more about the chimps than you would on a typical expedition, but it does need patience.
Kibale National Park is the only place to visit for the Chimpanzee Habituation Experience. Non-habituated groups reside far in the forest, away from the marked pathways, and migrate more quickly to new areas, making the walk more tiresome than a regular chimp expedition.
The full-day experience begins at 6 a.m. when the chimps awaken and ends at 7 p.m. when they build fresh nests and retire for the night. Throughout the day, you observe them going about their daily activities. These include feeding, hunting, patrolling the area, resting, and caring for their young.
The best approach to getting amazing chimp photos is to have a habituation experience. For one thing, you get close enough and recognize individuals based on their unique marks and characteristics. You also understand more about their group dynamics.
Kibale Forest is home to a diverse range of flora and wildlife, including elephants, buffaloes, bush pigs, and birds. Spending a full day in the park allows you to view much of this, including elephants, buffaloes, bush pigs, and birds.
Does chimp habituation serve any other distinct roles?
By participating in a Chimpanzee Habituation Experience, you support the Uganda Wildlife Authority's conservation efforts. Researchers must acclimate the chimps to the presence of humans to learn more about them in their natural habitat without affecting their behavior. We will be better able to conserve these magnificent primates as we understand more about them.
The funds raised by chimp trekking in Kibale are critical to the chimps' and the forest's continued conservation and protection efforts. At the time of writing, the trip costs $250, which is just slightly more than a typical chimp trekking tour, which costs $200.