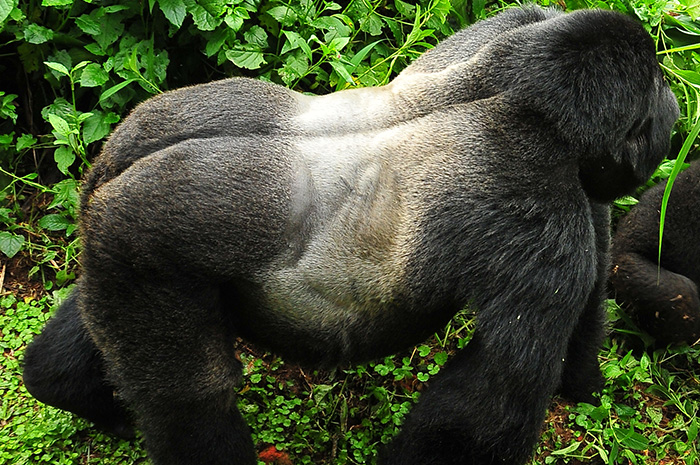 Trekking Experience with Gorillas in Uganda
What are the best places for tourists to go gorilla trekking?
Bwindi Forest is so dense that you can't see the person walking less than a meter in front of you, the ground is as slippery as ice, and you're walking at a minimum angle of 30 degrees — it's the moment of truth. Your guide pulls you into the clearing softly after a long, exhausting scramble. The second leg of our Uganda mountain gorilla hiking expedition had begun!
It was just as unforgettable the second time around as it was the first. Something about peering into the eyes of such a human creature and seeing recognition and acknowledgment makes it impossible to leave without having a profoundly different outlook about all our fellow earthlings.
At first, we hiked from Buhoma in the Bwindi Impenetrable Forest (Uganda) in 2018, but this time we trekked from Rushaga on the opposite side of Bwindi.
I've read articles debating whether it's better to go on a gorilla tour in Uganda or other gorilla destinations but often, they overlook that not all gorilla trekking experiences are created equal in each nation.
I don't know much about gorilla trekking in Rwanda or Congo because I've not visited either nation. However, having encountered gorillas twice in Uganda, in two distinct areas, I can confirm that each encounter was unique.
However, luck plays a big role in your experience. The gorilla families do not live in a zoo, but rather move freely in a vast region of dense forest, and many variables, such as the duration of your trip or the openness of the area you encounter the gorillas in, cannot be predicted. There are, however, a few things you can prepare for.
On your gorilla trekking adventure in Uganda, assess your fitness levels:
At Buhoma, you walk for almost 3 hours to get to the forest, while the starting point at Rushaga is right in the jungle. The longer journey isn't necessarily a problem; it's just something to consider. Our longer trek in 2018 allowed us to experience the village of Buhoma in a completely different way.
We wandered through the tea plantations and hiked higher and higher. Finally, we enjoyed breathtaking views of endless bright green mountains quilted with even greener forests just before we entered the Bwindi Impenetrable Forest itself.
So, take an honest look at your physical health and priorities, and then pick a location that best suits your talents and desires. Porters are on hand to help with luggage and in an emergency. However, this additional assistance will come at a cost. But don't worry, you'll have good time gorilla trekking!
Make a list of what you want to see:
If you do research, you may also plan for the gorilla families themselves. These families are similar to ours in that they are made up of people with diverse personalities who are always expanding and changing, occasionally losing members due to old age but also acquiring members through births. Researching the exact status of each family, when births are expected, the size of each family, and the behavioral patterns of each family will guarantee you know what to expect.
We got the opportunity to see a gorilla family in Buhoma that had recently added a new member. This impish member was suckled by his mother while she rubbed his face lovingly. I swear this is a moment that will stay with me forever. On the other hand, we went to Rushaga to see another gorilla family with a pregnant member.
This black back has a voracious appetite. She husked a bush right next to us! Their silverback performed, and I thought to myself, "This guy is a master show-off." Both gorilla regions have left an indelible impression on me. In your trekking adventure, you will undoubtedly find pleasure!
Carefully plan your time:
Another factor to consider, according to some, is what else you'd like to do besides gorilla trekking. It does not apply, though, if you have short vacation time. You can also perform several other things in these areas.
The roads here are improving rapidly, implying that you can easily travel to Rwanda and the Democratic Republic of the Congo. We didn't hire a driver for the duration of our family vacation.
From one end of Uganda to the other, we've traveled the length and breadth of the country. Self-Tailored tours have become even better thanks to this excellent infrastructure!
When is the ideal time to visit Uganda and go gorilla trekking?
It is undeniable that all Ugandan national parks experience a spike in sales from June to August and December to February. As a result, if you want to book gorilla permits, do so three months in advance of one of these designated dates.
We get torrential rains in March, April, May, October, and November. Certain lodges and camps close down in high rainfall areas; roads and forest paths can be in poor condition). As a result, June-July and January-February have nice weather. Come in large groups to have some of the best experiences of your life!
In Uganda, how much does a gorilla trekking permit cost?
A single gorilla permit costs roughly US$600-700 per person in Uganda. Gorilla permits vary in price depending on the country. Trekking permits in Rwanda are the most expensive, costing US$1,500, while in the Democratic Republic of the Congo are the cheapest, costing US$400. Additionally, a gorilla habituation experience permit costs $1,500 per person in Uganda. We are very excited to see you here, so please come!